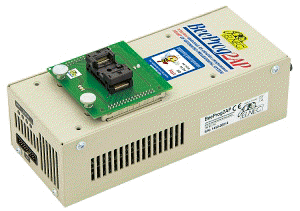 Short description:
industrial version of BeeProg2 programmer for usage in automated programmers and ATE machines
extremely fast programming, one of the fastest programmers in this category. Programs 64Mbit NOR Flash memory less than 9 seconds and 1Gbit NAND Flash less than 70 sec.
48-pins powerful pindrivers for in ZIF programming (off line programming)
ISP connector for in-circuit programming (on line programming)
up to 8 programmers can be attached to one control PC to fulfill complicated needs in ATE machines
comfortable und easy to use control program, works with all versions of MS Windows (from Windows XP to Windows 10 32-bit and 64-bit)t
implementation into available 3rd party automated programmers and ATE machines using simple remote control
unique quick reaction to customer's needs - software update can be ready within a day from request by OnDemand software
remote control software
Multiprogramming possible by attaching more programmers to one PC
approved by CE laboratory to meet CE requirements
warranty - 3 years
Optional accessories:

Back to top
GENERELL
BeeProg2AP is an industrial version of BeeProg2 programmer for usage in automated programmers and ATE machines. The differences are:
the dimensions of the BeeProg2AP programmer are reduced - compared to the BeeProg2 - in intent to be able to put is into tighter space than can be placed BeeProg2 programmer. It is important mainly for implementation into ATE machines
more mechanically stable case to be immune against vibration during operation. The case of BeeProg2AP is prepared to be fastened from top, from bottom or from side of programmer body into target position
different construction of programming modules, stable enough for insert/replace chips by mechanical arm and also that allow to keep identical position of ZIF socket also after replacing of the module
BeeProg2AP can be implemented into automated programmer or ATE machine as ISP programmer identically as BeeProg2 programmer - using of standard PC. BeeProg2AP can be connected to the control PC of automated programmer too.
up to 8 BeeProg2AP can be attached to one computer using USB hub or USB ports of the PC
see please BeeProg2 description for other details of this implementation
Implementation of BeeProg2AP into available 3rd party automated programmers and handlers is using simple remote control of the PG4UWMC control software. There exist examples of implementation for standard programming languages and of course we are ready to help customer with this task.
BeeProg2AP programming modules have schematics identical like modules for BeeProg2 programmer, but these modules are mechanically designed for perfect stability at the top of the programmer and also in intent to keep identical position if the programming module is exchanged.
The list of BeeProg2AP programming modules is identical like BeeProg2 programming adapters, except the programming adapters that use ClamShell version of the ZIF socket (mainly adapters for BGA packages). We're continuously working on the finding of proper open-top ZIF sockets for such programming adapters.

PC system requirements
Common, software related requirements
Programmer hardware related requirements:
either one USB port, 2.0 compatible
Operations
external power supply unit: operating voltage 100-240V AC rated, 90-264 VAC max., 47-63 Hz. Output: 15VDC.
power consumption max. 20W active, about 2W sleep
dimensions: 88x205x61 mm ( 3.5 x 8.1 x 2.4 inch). Dimensions were measured without programming module inserted and does not include projections. Total height of BeeProg2AP programmer with programming module inserted depends on ZIF socket height and can vary between 80-90mm.
weight: 1.15kg (2.54 lb)
operating temperature: 5°C ÷ 40°C (41°F ÷ 104°F)
operating humidity: 20%..80%, non condensing
Package includes (programmer and standard accessories):
BeeProg2AP programmer
power supply unit 100-240V AC to 15V/1A DC
power cord
USB connection cable PC-programmer (1x)
diagnostic POD for Programmer Module Interface selftest of the programmer (1x)
diagnostic POD for ISP connector selftest of the programmer (1x)
ISP cable
user manual (both on CD and printed form)
software CD
calibration test report
transport case

Back to top
Additonal service
Keep Current - ELNEC sends to user a latest version of programmer software and updated user documentation (Keep-Current package)
AlgOR - (Algorithm On Request) - add new supported devices on customer request
Prices: BeeProg2AP € 1099,00
Programmer price also includes
free technical support(hot line)
free life-time software via internet
The information in this document are subject to change without notice.

Back to top